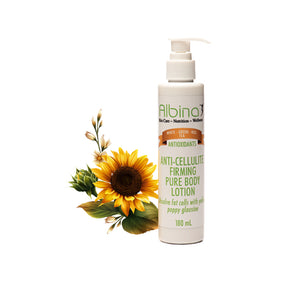 Anti-Cellulite Firming Pure Body Lotion- Sorry not available at this time
Regular price $29.00 $25.00 Sale
With white, green and red teas; that offer a high level of polyphenol (anti-oxidant) properties. Firmer and Toned skin are the results of this total body moisturizer for men and women.
Its and ultra sheer cream that absorb in seconds, moisturize your skin for a full 24 hours, makes your skin velvety, soft and healthy looking.
The oils of grape seed, sunflower, sweet almond and shea butter give the performance of a truly Hydrating active cream. We also add natural olive based squalane as highly effective in decreasing dryness, smooth scaly skin and creates a hydrating barrier to reduce transdermal water loss. 
Includes extracts of gingko biloba, Aloe and olive leaf, blended with white, green and red teas; offering a high level of polyphenol (anti-oxidant) properties, functioning as a free radical scavengers. 
We also have enriched our Amazing Anti-Cellulite Firming Pure Body Lotion with vitamin E - C and vitamin B3 (niacine) which is becoming more important for skin repair. 
Finally we added Glaucine an ingredient that stimulates lipolysis, diminishing fat cells and the appearance of cellulite. 
While there is no permanent fix via cream (or needle or laser) we have to say Albina amazing Formula Anti- Cellulite Firming Body Lotion Treatment have been the only treatment that we are pleased with the results, it hydrates, moisturize and firm the body skin.
Take note: In addition to using this unique and amazing product who saw the best results are the users that improved their eating habits as well as their exercise routine, improvement are in fact more visible as you create for your self a healthy physique. Albina Skin Care & Wellness  always promotes healthy daily habits for real and long lasting results.
INGREDIENTS
 Deionized Water, Aloe Barbadensis Leaf Juice, Vitis Vinifera (Grape) Seed Oil, Caprylic/Capric Triglyceride derived from: (plant sugar) Amygdalus Dulcis (Sweet Almond) Oil, Helianthus Annuus (Sunflower) Seed Oil, Glyceryl Stearate, Phospholipids, Cetyl Alcohol, Stearic Acid, Glycerin, Butyrospermum Parkii (Shea Butter), Glaucine, Squalane, Niacinamide (Vitamin B3), orange peel oil extract (Vitamin C) CTocopherol (Vitamin E), Gingko Biloba Leaf Extract, Olea Europaea (Olive) Leaf Extract, Aspalathus Linearis (Rooibos Red Tea) Leaf Extract, Camellia Sinensis (White Tea) Leaf Extract, Camellia Sinensis (Green Tea) Leaf Extract, Allantoin, Lactic Acid, Phenoxyethanol and Caprylyl Glycol (Optiphen®).