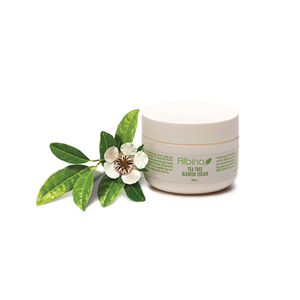 IMPROVED Tea-Tree Blemish Cream & Dark Spot Remover
Regular price $40.00 $36.00 Sale
                                   IMPROVED & UPGRATED CREAM
Antibacterial and Dark Spot Remover Cream
This one-of-a-kind recipe contains amazing and upgraded ingredients as Dyacetyi-Bioldine (from a chilean tree bark) and Kiwi Root (Actinidia Chinesis), it targets specific facial pigmentation and dark spot problems and have produced 94% equivalent effectiveness of kojic acid (without toxicity). It also includes 5 natural oils of Avocado, Grapeseed, Sweet Almond, Olive and Sunflower. Shea and Mango Butters along with Aloe, Vitamin E and Cucumber extracts. All this added to our original ingredients and the Tea tree natural source antibacterial extract.  Tea Tree Oil, which is found in selected regions of New South Wales, Australia will also help to keep your skin clear, smooth, and youthful in appearance.
This formula is an essential combination of essential antibacterial compounds to quickly work to reduce skin imperfections caused by acne and clogged pores. It is an amazing solution for troubled and now also helps to resolve discoloration of skin. This product is recommended for men, women and teens who tend to have blemish-prone skin and dark spots on their face. Works well on all types of skin.  
 FEATURES & BENEFITS
Specially formulated for 'troubled' skin and for discolorations.
Contains Chamomile extract for its proven ability to reduce skin irritation.
Contains Camphor a natural oil use to relieve skin itching and irritation.
When used properly, camphor provides a cooling sensation and it's helpful to clear acne and eczema and has the ability to reduce redness of the skin.
Contains Pure Tea Tree Oil, a powerful, yet gentle, natural antibacterial compound.
Contain Pro-vitamin B-5 which provides blemish fighting benefits.
Avocado, Grapeseed, Sweet almond and Sunflower oil extract.
Extracted bark of Chilean Boldo trees, Diacetyl Boldine a strong antioxidant that is known to treat excess pigmentation concerns including sunspots & hyperpigmentation.
Non-polluting.
Not tested on animals.
DIRECTIONS FOR USE
Apply a small amount of cream on troubled skin areas. or use it as a moisturizer for the all face. For best results, use 2 times daily. Also suggest it to use in combination with Albina Derma Fluid Vitamin C Serum and the "Instant Beauty Masque" for quicker results.