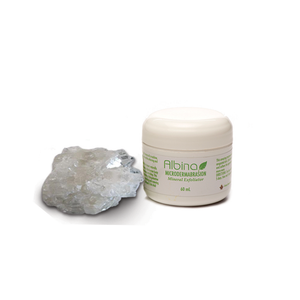 Microdermabrasion Facial Treatment
Regular price $46.00 $42.00 Sale
Albina is proud to present this amazing skin care treatment!
MICRODERMABRASION, a Facial Resurfacing Treatment in a jar, is a painless treatment which can be used in the comfort of your home, on any skin color or type, even sensitive skin. Exfoliate and polish the skin without the harshness of a machine. Its safe to use and much more cost effective.
MICRODERMABRASION contains magnesium oxide crystals, amino acids, calcium and deep sea minerals. These ingredients successfully smooth the skin surface while softening and reducing minor scarring marks.
It is an amazing treatment to help improve acne, dull and congested skin, and to improve the clarity and brightness of the skin. Makeup application will be more even and will look smoother. Best of all, you will be able to see clearer, smoother skin texture immediately with each application.
As a beauty care professional, I'm always concerned about environmental factors (such as pollution, sun, wind, and others) which can prematurely age the skin, causing wrinkles,dry patches and discoloration. This is why I am proud to say that MICRODERMABRASION Facial Resurfacing Treatment delivers revolutionary results, giving birth to a new, vibrant, refined and nourished skin.
This is truly a breakthrough product!
DIRECTIONS FOR USE
Massage every other day for 1 or 2 minutes on dry skin, for very sensitive skin use it on moist skin, then rinse off crystal particles. Or use for 5 days, and then rest for 5 days. Repeat treatment depending on skin condition and type. Results are noticeable immediately.
INGREDIENTS:
Magnesium oxide crystal (white hygroscopic solid mineral that occurs naturally, it's a source of magnesium for the skin) Calcium (most abundant mineral in the human body and in regard to skin, a deficiency can manifest in dryness, itching and premature wrinkling. This mineral also helps the functioning of cell turnover and helps with the regulation of the protective lipid barrier) Sea minerals (Dead Sea Minerals assist the skin in cleansing, detoxifying and restoring a healthy look) Prolin(Amino acid that improves skin texture and support collagen) Citric acid ( Natural Preservative)