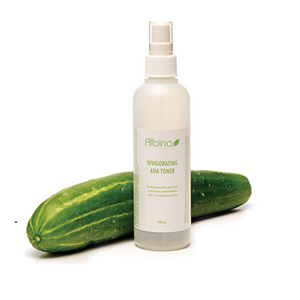 Invigorating AHA Toner
Regular price $40.00 $36.00 Sale
Never underestimate the value of using the proper toner after every cleansing step.
Toning, refreshing and balancing the skin after cleansing is an important step in bringing the ph of the skin to right level and preparing the skin for beauty enhancement treatments that follow. This alcohol-free INVIGORATING AHA TONER has been specially formulated for all skin types. Each precious drop has been purposely fortified with AHA fruit acid and Cucumber extract which contains polysaccharide responsible for is anti-inflammatory and astringent properties. 
Includes also 'natural source' botanical extracts of Chamomile, Rosemary and Thyme to help stimulate circulation and give the skin a radiant, youthful glow. Witch Hazel extract has been included in the formula for its proven astringent and skin-tightening effects on skin.
To help the skin retain its own protective 'acid mantle', this selective toner has been PH-balanced to 5.5 using our AHA system.
FEATURES & BENEFITS
Tones, refreshes, balance and clarifies the skin to properly prepare it for further beauty enhancement treatments that should follow.
Contains botanical extracts of Chamomile, Rosemary and Thyme to help stimulate circulation, providing the skin with a fresh, radiant complexion.
PH-balanced to 5.5 using our AHA system to help maintain the skin's own healthy 'acid mantle'.
Contains Cucumber and Pure Aloe Vera extract to help smooth, hydrate soften and moisturize the skin during the toning and astringent process.
Alcohol free. Fragrance free.
Non-alkaline. Non-comedogenic.
Not tested on animals.
DIRECTIONS FOR USE
Thoroughly cleanse your skin using PURIFYING AHA FACIAL CLEANSER.  Spray INVIGORATING AHA TONER to the skin or on a soft cotton puff until it is fairly saturated (not dripping). Gently spray or wipe all areas of the skin. Follow up with the appropriate Albina  Skin Care Treatment Cream or lotion.
  You can use this product as often as you like, even as a daytime skin pick-me-up.
INGREDIENTS:
Aloe Barbedensis leaf juice (Pure Aloe Vera), Cucumis Sativus (Cucumber Extract), Water, Hamamelis Virginiana (Premium Witch Hazel) Athemin Nobilis (Roman Chamomile), Mixed Fruit Acids( AHA)  Extract of Symphytum officinale (Comfrey extract), Rosmarinus officinalis, Thyme extract, Natural vegetable Glycerin, natural antimicrobial Grapefruit seed extract.