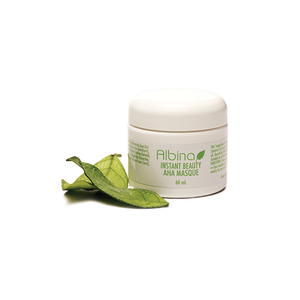 New Instant Beauty Masque
Regular price $46.00 $42.00 Sale
Nothing works like a good 'clay masque' to help rid the pores of deeply embedded skin pollutants, dead skin tissue, airborne irritants, etc. Regular cleansing of the skin will remove surface grime, but the use of a good facial mask actually draws beauty-robbing impurities from beneath the top layers of the epidermis making the skin more radiant and youthful in appearance.
NEW INSTANT BEAUTY MASQUE
Enriched with Essential Oils an its Paraben Free
This product is specially formulated with Australian and Rhassoul clays that will help lift impurities and revitalize dull skin. This mask is also enhanced with evening primrose and carrot oils to nourish the skin and fight the effects of aging. The calming aroma of lavender and the zesty scent of lime are combined to provide a fresh and clean, long-lasting aroma to this pale greyish beige mask. This masque provides the perfect way to deeply cleanse skin pores and discourage the development of acne and other common skin blemishes. Is one-of-a-kind of a purifying mask containing a beautifully balanced blend of earth clays, herbal extracts, Essential oils and Aloe Vera.
Directions for use: 
Apply evenly to face and neck, avoiding the eye area. Leave on for 5 to 10 minutes. Once completely dry you have the option to mechanically rub it off to exfoliate dead dry skin cell or rinse it off with lukewarm water.  For best results, follow with  Albina toning mist, moisturizer or cream.
Key Ingredients:
Australian Clay - rich in many essential minerals including magnesium, calcium, copper, and potassium.

Rhassoul Clay - highly detoxifying with a high level of ions exchange making it ideal for toning and enriching the skin.

Evening Primrose Oil - contains high levels of good essential fatty acids. Perfect for a dry and mature skin.

Lavender Essential Oil - the most popular oil in aromatherapy, lavender essential oil is has a calming effect on body and mind.

Lime Essential Oil - uplifting oil, it acts as natural astringent to help clear oily skin. 
Chamomile and Comfrey- to help stimulate circulation and provide the skin with a youthful, radiant complexion.
Aloe Vera- for its proven skin-smoothing effects.
Economical a little goes a long way.
Fragrance-free.
Non-polluting.
INGREDIENTS
Purified water, Australian & Rhassoul Minerals Clays, Caprilic/Capric Triglyceride(occur naturally in coconut oil and it's an excellent skin emollient), Athemin Nobilis (Roman Chamomile) Extracts of Symphytum officinale(Confrey extract), Aloe Barbedensis leaf (Aloe Vera), Evening Primrose oil, Lavander oil, Lime oil, Zinc oxide,Vegetable Glycerin, Dimethicone, Jojoba oil.