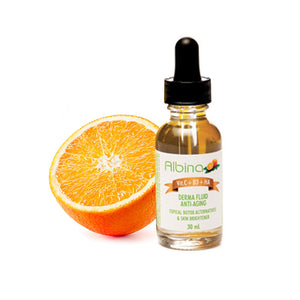 Derma fluid anti-aging
Regular price $84.00 $80.00 Sale
(Multifunctional Topical Botox Alternative and Skin Brightener)
Active Peptides ,
 VIT.C 
 B3 
 100% Pure Hyaluronic Acid.
We don't make fake claims for magical elixir to erase aging and dark discolouration's of the skin,  but we do promise to give you a superior quality product that actually performs. 
Derma Fluid Anti-Aging is manufactured by the highest cosmeceutical standards. Wherever possible, our formulas have eliminated chemical preservatives, artificial fragrances, synthetics parabens, coloring agents, and emulsifiers that are frequently 
found in cheap skin care products that can potentially irritate skin and even cause allergic reactions or breakouts.
 This is a product that is made from 98% naturally derived ingredients
Our new "Derma Fluid Anti Aging" C Plus - HA - B3.
It reduce dark spot, is multifunctional and unique serum with high anti-aging and anti-oxidant properties. Plump up the skin and also performs as a daily skin cell renewal serum, diminishing discolouration, and brightening the skin surface.

 It contains the highest concentration of effective active ingredients that reduce wrinkles , diminish discolouration plus healthy botanicals antioxidants:
Pure Vitamin C

Niacinamide (Vitamin B3)

Hyaluronic Acid (HA)

Fruit Acid from Grapes, Oranges, Lemon, Apple,

Sugar cane Natural mild HA
Pure Hyaluronic acid: Hyaluronic acid is an essential protein found in the skin. It has very powerful moisturizing properties, able to attract over 100 times its weight in water. But it needs to be at his highest purity and at the correct concentration to work. During the aging process, and over time, oxy-radicals produced mostly through exposure to pollutants and sunlight, degrade and destroy the natural Hyaluronic Acid  of the skin. Middle-aged adults are estimated to have less than half the Hyaluronic Acid they had in youth. The reduction of Hyaluronic acid leads to loss of dermal elasticity, loss of hydration and volume, and a lack of Hyaluronic acid giving rise to a number of lines, wrinkles, and other facial defects. Derma Fluid Anti-Aging contains the highest concentration of Pure Hyaluronic Acid offering a deep tissue enhancing experience meaning that collagen production is greatly enhanced! It playa an important role in tissue hydration, lubrication and cellular function.
Vitamin C and Vitamin B 3: will helps to reduce dark spots helping with discolouration, increasing collagen synthesis and microcirculation.  

A active combinations of mild fruit acids and pure sugar cane: these ingredients they will not only stimulate further the collagen and elastin of the skin, but they will  also improve photo damaged skin, bringing a youthful glowing fresh look. A great product to increase elasticity, volume and to minimize wrinkles. 
A serum for all skin type including the most sensitive one. This product has excellent anti-oxidation properties. 

 This is a product for best results should be used day and night on the face. Apply it before any other day or night cream or by itself and it will tone, repair, diminish discolouration and give elasticity to the skin as well as build a long term foundation for overall healthier skin. This is a holistic approach that makes more sense than receiving invasive Botox, which can be scary for many people. In fact, injection can have various side effects such as redness, tenderness, swelling, itching, etc. Researchers behind this innovative fluid confirm that every single time you use Derma Fluid Anti-Aging, you are allowing the skin to regenerate itself with pure Hyaluronic acid protein, relax the wrinkle that is caused by repetitive muscle movement and stimulate collagen synthesis.
IN CONCLUSION: 
Because of the purity and the strength of ingredients in this fantastic product, the severity of even the deep wrinkle around the forehead and mouth are reduced. Derma Fluid Anti-Aging with Vitamin C and B3, Pure Hyaluronic acid and fruit acids is a perfect combination to create a super strength recipe that works synergistically to create what we believe to be the most powerful fluid ever seen.
Women think this product is a miracle, realizing that continual gradual application will give cumulative benefit to their skin.
 To ensure healthy, young and vibrant skin order it today, using it twice daily.
Derma Fluid is totally safe, effective and affordable.
Excellent for all skin types.
Uniqueness:
Powerful anti-aging skin Fluid

Helps support the body's natural skin reproduction cycle

Liquid texture to maximize absorption

Diminish dark discolouration of the face

Promotes cellular restructuring causing no irritation.

Strengthens, nurtures, and revitalizes the skin.

Maximum strength
Direction: Apply a few drops of the fluid into the palm of your hands. Using fingertips, massage daily on a clean face and neck until completely absorbed. Use it in the morning and at night for best results. Use it alone or follow it with Albina's cream or lotion.
Ingredients: Deionized Water, Sodium Hyaluronate (Hyaluronic Acid), Aloe Barbadense Leaf Juice, Lactobacillus Ferment, Vitamin C, Niacinamide/B3, Vaccinium Myrtillus (Bilberry) Extract (and) Saccharum Officinarum (Sugar Cane) Extract (and) Acer Saccharum (Sugar Maple) Extract (and) Citrus Aurantium Dulcis (Orange) Fruit Extract (and) Citrus Medica Limonium (Lemon) Extract,  Glycerin, Cucumis Sativus (Cucumber) Extract, Hydroxyethyl Cellulose.