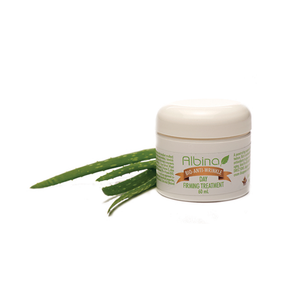 Day Firming Treatment
Regular price $63.00 $59.00 Sale
As skin ages, there is a slowdown in the body's ability to produce elastin and collagen two major compounds that give the skin its elasticity and youthful appearance. Lack of moisture also causes the skin to become dry, rough and wrinkle-prone. Oxygen-free radicals caused by sun exposure, air pollutants, smoking and stress-related conditions also accelerate the skin's visible signs of aging.
This product its a scientifically advanced formula, that addresses all of the beauty-robbing problems outlined above. This rich, quick-penetrating cream contains a high effective concentrations of collagen ingredients stimulants, elastin, hyaluronic acid, matrixil,emollients, vitamins, humectants, herbal extracts and free- radicals scavengers. All of  these ingredients help rejuvenate 'out-of-condition' skin and dramatically reduce the visible signs of aging.
A more in-depth profile on this advanced skin-care preparation has been outlined in the Features and Benefits section that follows.
FEATURES & BENEFITS
Contains Sodium Hyaluronate, a remarkable skin moisturizer that is capable of holding up to 500 times its own weight in water. Sodium Hyaluronate binds precious moisture to the skin giving it a much smoother and softer look and fee.
Contains Aloe Vera gel, a natural source plant extract with the scientifically proven ability to accelerate wound healing and promote cell growth by enhancing the proliferation of germinating basal keratinocytes. In simple terms, it gives the skin a more youthful appearance.
Contains Vitamin E. The use of this oil-soluble vitamin in helping to maintain healthy skin is very well-documented. Vitamin E has been shown to be very useful in the relief of priuritis and in promoting healing of the skin. Vitamin E in an excellent antioxidant, it is particularly useful in helping to prevent the oxidation and degradation of the skin by the combined action of air and the sun's rays.
Contains Elastin which helps give the skin its youthful elasticity and fine texture.

Contain soluble Collagen

 

to firm and tone the skin.
Contains Chamomile Extract for its proven ability to act as a counter-irritant and redness-reducing compound.
Contain Primrose oil, a superb emollient, a natural oil that supplies the skin with beautifying essential fatty acids which are not produced by the body naturally. Also evening primrose oil has antioxidant and anti-inflammatory properties. It support anti-aging and reduce redness in the skin.
Contain Matrixyl a lipopeptide fatty acid that is mixed with amino acid. It's an incredible breakthrough ingredient that stimulate collagen production in the skin, minimize wrinkle and improve elasticity.
Contain Lecithin extracted from soy oil, a great ingredient containing many moisturizing beneficial properties.
Contain Liposomes a special encapsulated delivery system that helps the active ingredients to be delivered and to penetrate the skin more rapidly.
Contain Calendula Officinalis extracted from the calendula flower, it's a skin calming, regenerating and wound healing properties
Contains d-Panthenol (pro-vitamin B-5). This well-proven compound has the ability to enhance the formation of health-looking skin pigment, making the skin appear 'younger' and 'more beautiful'. Due to its ability to penetrate the skin, it can reach deeper skin layers where it exerts its beneficial influence.
Contains Wheat Germ oil. This Vitamin E-containing natural oil provides both skin softening and valuable antioxidant properties.
Contains Algae Extract for its unique skin-toning and skin-retexturizing properties.
Contains Dimethicone to help protect the skin against possible damage from the elements and air pollutants.
Hypoallergenic. PH balanced.
Not tested on animals.
Final Comments. The great number of features and benefits related to this advanced beauty cream truly substantiates the fact that this special moisturizing preparation has the ability to give the skin a more youthful appearance while helping to reduce the visible signs of aging. All the skin 'active' ingredients in this one-of-a-king formula are used at effective levels amounts that can really make a visible difference in the overall appearance of the skin. Excellent for combination, dehydrated, dry and sensitive skin.
DIRECTIONS FOR USE
After cleansing and toning the skin, apply BIO-ANTI-WRINKLE DAY FIRMING TREATMENT to the face and throat. Using your fingertips, massage into the skin using an upward and outward motion. Use daily for best results.
Ingredients:
Purified Water, Caprylic/Capric Triglyceride(occurs naturally in coconut oil and it's an excellent skin emollient) Sodium Hyaluronte"1% solution"( it's used to plump skin and decrease the appearance of lines and wrinkles). Calendula Officinalis( Extracted from the calendula Flower) Hydrolyzed Elastin, L-lechitine (amino acid and one of the main components of collagen), Soluble Collagen, Algae Extract,Wheat Germ Oil, Matrixyl(palmitoyl pentapeptide-3),Primrose evening oil, Tocopheryl Acetate (Vitamin E), Aloe Barbedensis leaf (Aloe Vera),Dimethicone ( FDA reviewed the safety of Dimethicone and approved its use as a skin protectant)  D-Panthenol (pro-Vitamin B-5), Athemin Nobilis ( Roman Chamomile), Stearic Acid,(vegetable fatty acid, recommended and approved co-emulsifier) Lecithin Liposomes (extracted from organic soy oil, great ingredient contain many beneficial properties, used also as a mild preservative, moisturizer and channeling agent)  jojoba oil, limited Cetyl Alcohol, Panthenol, Citric acid( natural preservative).