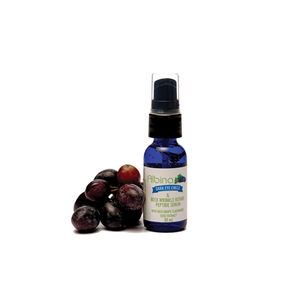 Dark Eye Circle and Neck Repair
Regular price $46.00 $42.00 Sale
This is a clear, greaseless, lightweight eye gel that is formulated to specifically reduce the dark rings from under the eyes which are commonly related to lack of sleep, genetics and diet. As we age the skin gets thin and more transparent and the network of blood vessels within the skin become more visible, making the area look dark or purplish. 
Chrysin and Haloxyl are two new peptide complex targeting the main root cause of dark circles. In fact these ingredients stimulate the clearance of the deposited blood resulting in the reduction of dark circles.
Another aspect of the eye area looking old is the reduction in the elasticity and firmness, therefore we included Matrixil 3000 (A strong Micro-Collagen) which reinforces firmness, tightens and tones around the skin of the eye area and can now also be spread and used throught out the all face.
In addition to this already effective product we add Aloe Vera and Cucumber Extract for their soothing anti-inflammatory and conditioning properties.Whether you have dark circles or crows feet or just tired eye or facial area this cooling gel is formulated to be an effective anti-aging solution for the eyes, for the neck and the rest of the face.
Dark eye Circle and Neck repair contains  also breakthrough botanical peptides Vitis Vinifera grape fruit seed extract a strong and powerful flavonoid to further more smooth and minimize wrinkles of the eyes and neck. 
This reviving formula is ideal for all skin types and its also a perfect base to help eye makeup stay perfectly in place.
Its a deeply penetrating gel that leaves the skin firmer, more refined and intensely hydrated.
Background  & Research:
Many factors are involved in the skin's aging process.
Changes in the extra cellular matrix, decreased responsiveness to growth factors, and damage caused by free radicals, all contribute to this currently inevitable process.

Some factors cause the skin to age more rapidly. Loss or inhibition of collagen synthesis in the body can cause the skin to lose its elasticity and become more wrinkle-prone at an earlier stage than normal.

Oxygen free-radicals caused by sun exposure, air pollutants, smoking and stress-related conditions also accelerate the skin's visible appearance of aging.

Dryness, caused by lack of moisture, also detracts from the youthful appearance of the skin.

As we age, brown spots caused by an increase in melanin, often appear on the skin. These too reveal visible signs of aging.
Although there are many good skin care products on the market, no single product has the ability or proper ingredients to address all of the above age-accelerating factors. Furthermore, most skin care products do not contain a high enough concentration of active ingredients to really make a difference. With the invention of our Dark Eye Circle & Neck Repair complete eye and neck skin revival can now take place.
Some Final Comments
The great number of features and benefits related to this state-of-the-art beauty gel truly substantiates the fact that this special anti-aging product may indeed be very close to the elusive 'fountain of youth'. Keep in mind that all of the 'active' ingredients in this one-of-a-kind formula are used at effective levels amounts that can really make a visible difference.
DIRECTIONS FOR USE
Cleanse the face with a very gentle and effective cleanser.  Using your fingertips, apply the light eye gel around the wrinkle- prone eye and neck area. Gently massage until it completely disappears into the skin. Relax, and enjoy a 'new you'.
Deionized Water, Aloe Barbadensis Leaf Juice, (Aloe Vera), Glycerin,Vitis vinifera (Grape)  Rich Fruit Extract, Cucumis Sativus (Cucumber) Fruit Extract,  N-Hydroxysuccinimide - Chrysin  ( Haloxyl) Palmitoyl Oligopeptide, N-Hydroxysuccinimide, Palmitoyl Tetrapeptide-7, Palmitoyl Pentapeptide-3,( Matrixil 300),  Polysorbate- 20, (safe surfactant for Stability) Caprylyl Glycol "Optiphen®" (A patent-pending liquid preservative which offers broad spectrum preservation without parabens or formaldehyde, this preservative is globally approved).