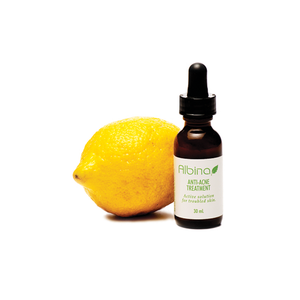 Anti-Acne Treatment
Regular price $43.00 $39.00 Sale
This advanced and exclusive treatment is specifically formulated with an innovative active new launch 'AC.NET', a concentrated synergistic complex, and other effective, blemish-fighting ingredients, to remarkably normalize the skin and reduce the severity of acne lesions.
This one-of-a-kind recipe also contains the amazing, natural-source antibacterial compound, Tea Tree Oil. This oil is found only in selected regions of New South Wales, Australia. Regular use will keep the skin clear, smooth and youthful in appearance.
Tea Tree oil is an essential antibacterial compound that works quickly to reduce skin imperfections caused by acne and clogged pores.
Recommended for all men, women and teens who have blemish-prone skin.
Albina's Anti-acne Treatment inhibits the testosterone involved in sebum production and decreases active glands.
A unique and effective treatment to fight 'breakouts' by reducing hyperseborrhoea (sebum secretion), hyperkeratosis (acne bacteria) and inflammation.
Specially formulated to clear up pimples, unclog pores, whiteheads, blackhead and pustules.
Works well on all types of skin.
A dermatological in-vitro study carried out over two months demonstrated:
A net decrease of active glands and of total sebum production.
A global score of improvement in comedones and inflammatory lesions.
ANTI-ACNE TREATMENT IS AN AMAZING SOLUTION FOR TROUBLED SKIN.
FEATURES & BENEFITS
Specially formulated for 'troubled' skin.
Contains Chamomile Extract for its proven ability to reduce skin irritation.
Contains Camphor for its soothing skin-toning action.
Contains Tea Tree Oil a powerful, yet gentle natural antibacterial compound.
Contains a very active innovative compound 'AC.NET' to remarkably decrease sebum production, dramatically reducing acne bacteria.
DIRECTIONS FOR USE
Apply a small amount to troubled-skin areas. Use 3 times daily for best results.